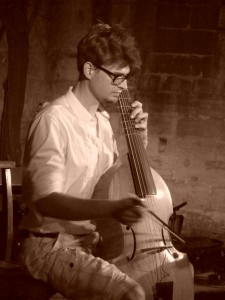 En français…
Aujourd'hui, j'accorde une priorité à la composition et à l'interprétation de musiques pour la viole de gambe en solo. En composant des musiques, en lien avec des thématiques, des personnes, des lieux, qui me tiennent à cœur ou éveillent ma sensibilité. Et je souhaite partager cette musique avec vous.
Et avant cela…
En parallèle d'une enfance sportive qui m'a amené à devenir enseignant d'EPS, accompagnateur en moyenne montagne et Thésard en sciences de l'éducation, j'ai depuis l'âge de 9 ans, toujours joué de la musique.
Après avoir étudié les guitares classique et électrique pendant 10 ans, notamment avec Cyril Achard, j'ai étudié la viole de gambe pendant 12 ans au conservatoire d'Aix-en-Provence avec Sylvie Moquet, elle même élève de Jordi Savall. J'ai également suivi des stages auprès de José Vazquez, Jérôme Hantaï, Coen Engelhard, Victor Aragon. Et j'ai beaucoup joué aux côtés du célèbre claveciniste Yvon Repérant.
Dans le style baroque, à la basse de viole, au violone et au dessus, j'ai eu le plaisir d'accompagner une quinzaine d'ensembles baroques tels que : L'ensemble Baroque de Toulouse, Antiphona, Repères Baroques, l'Ensemble Vocal Claire Garrone, la Chorale Universitaire de Montpellier, l'Ensemble Vocal de Montpellier, Les Festes d'Orphée, les Musiciens de Cythère, Les Fêtes de l'Astre, l'Ensemble Capella Monteverdi, Amarillys, B-A Bach, Eurydice, Le Madrigal de Nîmes, l'Ensemble Vocal Lucien Basse. J'ai aussi participé à 3 Festivals d'Avignon.
Appréciant tous les styles de musique, j'ai également composé et joué des albums de musique africaine avec Amadou Baldé, de Hip Hop avec le groupe No, de chansons pour enfants avec Héloïse Combes, et de Pop avec Frank Rabeyrolles.
In English…
Today, I give priority to composing and interpreting pieces for the viola da gamba in solos.
And before that….
In parallel to a sporting childhood that led me to become a sports teacher in high and middle schools, a mid-altitude mountain guide and a doctoral student of education sciences, I have, since the age of 9, always played music.
After studying classical and electric guitars for 10 years, including with Cyril Achard, I studied viola da gamba for 12 years at the Conservatoire of Aix-en-Provence with Sylvie Moquet, herself student of Jordi Savall. I also took training courses with José Vazquez, Jérôme Hantaï, Coen Engelhard, Victor Aragon. And I played a lot alongside the famous harpsichordist Yvon Repérant.
In the baroque style, on bass viol, on violone and on treble viol, I had the pleasure of accompanying about fifteen baroque ensembles such as: the Baroque Ensemble of Toulouse, Antiphona, Repères Baroques, the Vocal Ensemble Claire Garrone, the University Choir of Montpellier, the Vocal Ensemble of Montpellier, the Festes of Orphée, the Cythère Musicians, the Fêtes de l'Astre (the Sun's celebrations), the Ensemble Capella Monteverdi, Amarillys, B-A Bach, Eurydice, the Madrigal of Nîmes, the Vocal Ensemble Lucien Basse.
I also participated in 3 editions of the Festival d'Avignon.
Enjoying playing different styles of music, I have also played african music with Amadou Baldé, pop music with Frank Rabeyrolles, in hip hop with the group No, and for children's songs with Heloise Combes.